MATERIAL TENSILE TESTING MODEL USING PLC, WINCC AND PNEUMATIC PROPORTIONAL VALVE
Do Tuan Khanh

Hung Yen University of Technology and Education

Tran Xuan Tien

Hung Yen University of Technology and Education

Le Thanh Son

Hung Yen University of Technology and Education
Keywords:
Tensile Testing, Pneumatic proportional valves, PLC and WINCC
Abstract
Tensile testing has been used to guarantee the quality of components, materials and finish products within a wide range of industries. Typical applications of tensile testing are highlighted in the following sections on: Aerospace Industry, Automotive Industry, Beverage Industry, Construction Industry, Electrical and Electronics Industry, Medical Device Industry, Packaging Industry, Paper and Board Industry, Pharmaceuticals Industry, Plastics, Rubber and Elastomers Industry Safety, Health, Fitness and Leisure Industry, Textiles Industry, and etc.. In this study, we designed and fabricated a material tensile testing model and used pneumatic proportional valves, PLC and WINCC to test material tensile strength. In this paper we propose a new method of material tensile testing through the drop in tensile pressure in the tensile cylinder chamber, the tensile force at the point when the material is destroyed (damaged material)
is determined the diagram on the control interface.
References
A. Kiraz a, C. Kubat a, Y.Y. Özbek b, Ö. Uygun a and H. Eski c: "A Web-Based Virtual Experiment in Material Science: Tensile Test Laboratory Application", ACTA PHYSICA POLONICA A, Vol. 125, No. 2, 2014.
J.Milisavljević, E.Petrović, I. Ćirić, M. Mančić, D. Marković, M. Đorđević: "Tensile Testing For Different Types Polymers", DAS-29, 29th Danubia-Adria Symposium, University of Belgrade, Serbia, 2012.
CHAPTER 1: Introduction to Tensile Testing, ASM International. All Rights Reserved, 2004.
David Roylance, "MECHANICAL PROPERTIES OF MATERIALS" 2008.
Malcolm S Loveday, 1 Tom Gray 2 and Johannes Aegerter 3 (April 2004), "Tensile Testing of Metallic Materials: A Review", 07/10/05 Rev 10 by LOVEDAY,GRAY & Aegerter Tensile test of Metallic Materials: A Review TENSTAND (M.S.L).
Materials Testing Guide Tensile Testing, Second Edition - Copyright 2013 ADMET, Inc. Norwood, MA. All Rights Reserved, July 2013.
MECHANICAL BEHAVIOUR LABORATORY MSE 313: Laboratory Manual; Instructor: Dr. Nilesh Prakash Gurao, Department of Materials Science & Engineering Indian Institute of Technology Kanpur Kanpur – 208016, 2013-2014.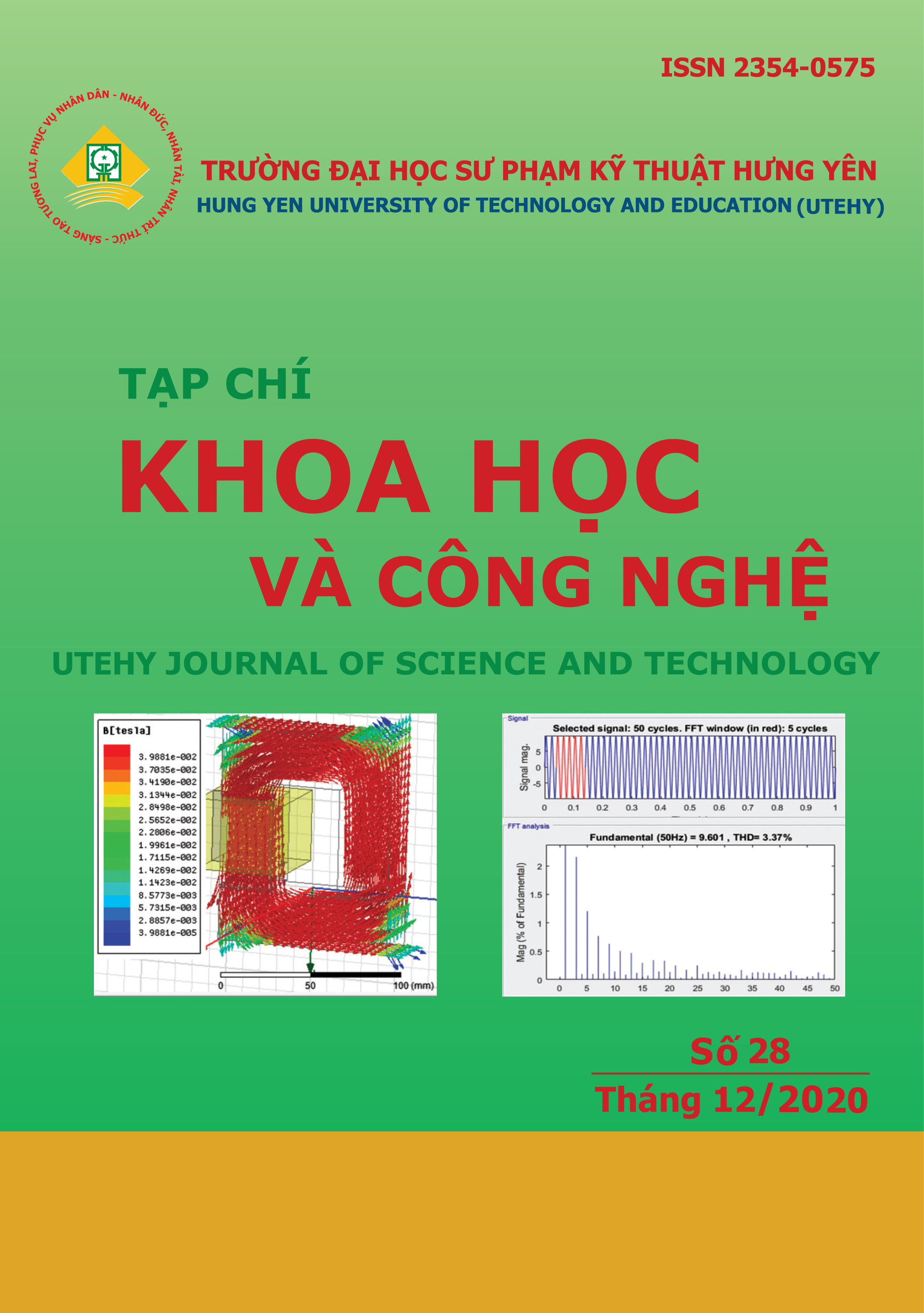 How to Cite
Do Tuan Khanh, Tran Xuan Tien, & Le Thanh Son. (2021). MATERIAL TENSILE TESTING MODEL USING PLC, WINCC AND PNEUMATIC PROPORTIONAL VALVE. UTEHY Journal of Science and Technology, 28, 48-53. Retrieved from http://tapchi.utehy.edu.vn/index.php/jst/article/view/408