RESEARCHING FOR ENERGY RESOURCES IN VIETNAM AND OBSTRUCTIONS, SOLUTIONS FOR RENEWABLE ENERGY DEVELOPMENT IN VIETNAM
Nguyen Thi Thu Huong

Military Technical Academy

Nguyen Viet Ngu

Hung Yen University of Technology and Education
Keywords:
Renewable energy, Pin solar, Wind turbine
Abstract
Today, traditional energy sources are being depleted and also cause negative impacts on the environment, causing a marked change in the climate. Countries around the world are focusing on renewable energy development, which contributes to climate change, creating a prerequisite for sustainable development. This article explores the potential and status of renewable energy sources in Vietnam and
restrictions on the development of renewable energy in Vietnam and at the same time offer solutions for the development of renewable energy.
References
Đặng Đình Thống, Lê Danh Liên. Cơ sở năng lượng mới và tái tạo, NXB Khoa học và kỹ thuật, 2006.
Các tác giả. Tiềm năng phát triển năng lượng tái tạo ở Việt Nam, Cục thông tin KH & CN quốc gia, 2015.
Nguyễn Ngọc Hoàng. Báo cáo ngành điện, Ngành điện, 2015
http://nangluongvietnam.vn/news/vn/khoa-hoc-va-cong-nghe/mo-hinh-trien-khai-luoi-dienthong-minh-tai-nga.html
Nguyễn Hồng Thúy, Đàm thị Phương Thảo. Đính chính những hiểu lầm về năng lượng tái tạo tại Việt Nam, Trung tâm phát triển sáng tạo xanh (GreenID).
Rainer Brohm. Myth of renewable energy intermittency of solar PV, Renewable energy week 2017.
Af-Mercados, E.. Report on recommendation for smart grid program for Vietnam, Tham khảo tại ERAV, 2012.
Knechtel, M. Groups tackle enhanced weather forecasting to boost renewable energy generation, 2016. Tham khảo tại http://bit.ly/2inMCnH
Bonn. Renewable Energies, Innovation for the future, Federal Ministry for the Environment, Nature Conservation and Nuclear Safety, 2004.
Peter Gevorkian. Solar Power Generation Problems, Solution, & Monitoring, Cambridge, 2017.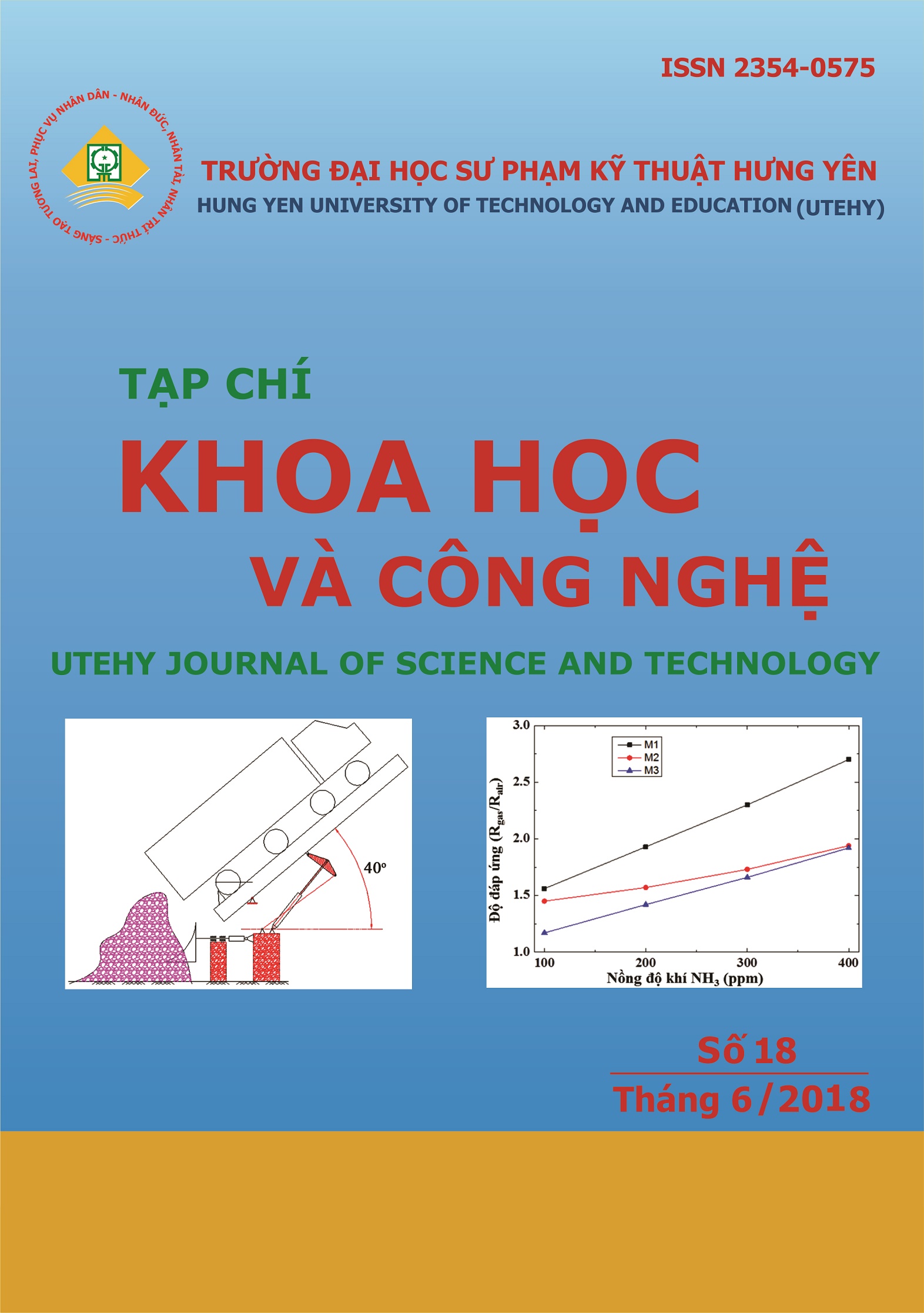 How to Cite
Nguyen Thi Thu Huong, & Nguyen Viet Ngu. (2018). RESEARCHING FOR ENERGY RESOURCES IN VIETNAM AND OBSTRUCTIONS, SOLUTIONS FOR RENEWABLE ENERGY DEVELOPMENT IN VIETNAM. UTEHY Journal of Science and Technology, 18, 46-50. Retrieved from http://tapchi.utehy.edu.vn/index.php/jst/article/view/109