STUDY ON SELECTION OF STRUCTURE AND CONSTRUCTION OF HYDRAULIC CONTROL CIRCUITS FOR LIFTING AND DISCHARGING THE CASSAVA ROOTS SYSTEM WITH CAPACITY 30-60 TONS
Nguyen Dinh Tung

Research institute for manufacturing and manufacturing agricultural machines, Ministry of Industry and Trade

Do Thi Thanh Xuan

Hung Yen University of Technology and Education
Keywords:
hydraulic circuit, hydraulic system, hydraulic control system, lifting bridge
Abstract
The article presents the research results, selection of the principle and structure of lifting bridge - flip trucks carrying cassava with lifting capacity of 30-60 tons. The results show that the structural
principles of the system have been established, that the system calculations has been established and that
the appropriate hydraulic control and circuit diagrams can be established. Control the lift system to ensure
safety when lifting, emptying cassava material does not flip longitudinal lifting system
References
http://www.fao.org/faostat/en/?#data/QC; download năm 2018.
http://cafef.vn/hon-80-luong-san-va-san-pham-san-xuat-khau-sang-trungquoc-2018062218065086.chn, download năm 2018.
Spackman, H., Mathematical Analysis of Actuator Forces in a Scissor Lift. Naval Command, Control and Ocean Surveillance Center. San Diego, CA 92152-5001, USA, 1994, pp. 3-11.
Columbus Mckinnon, Hydraulic Lifting Tables-Standard and High Class Solutions, 2012, pp. 4-5. ww.cmco.eu/pfaff-silberblau, download năm 2018.
Nitereka, C.; Ostrowski, R; Pawl, J., Compact roll-off trailer configurations for containerhauling applications. US 2008/0056868 A1, 2008, pp. 3-5.
Bùi Hải Triều, Nguyễn Đình Tùng, Truyền động và điều khiển thủy lực ứng dụng, NXB Khoa học kỹ thuật, 2018.
Hatami, H., Hydraulic Formulary, Rexroth Bosch Group, 2013, pp. 26-29.
Nguyễn Đình Tùng, Bùi Hải Triều, Điều chỉnh tần số quay đĩa dao trên máy thu hoạch mía truyền động thủy lực. Tạp chí Nông nghiệp – Nông thôn, 2005, Tập 2, số 3, tr. 28-30.
Holger Watter, Hydraulik und Pneumatik, Grundlagen und Uebungen- Anwendungen and Simulation. 2 Auflage. Vieweg & Teubner Verlag (Studium Buch), 2008, pp. 205-208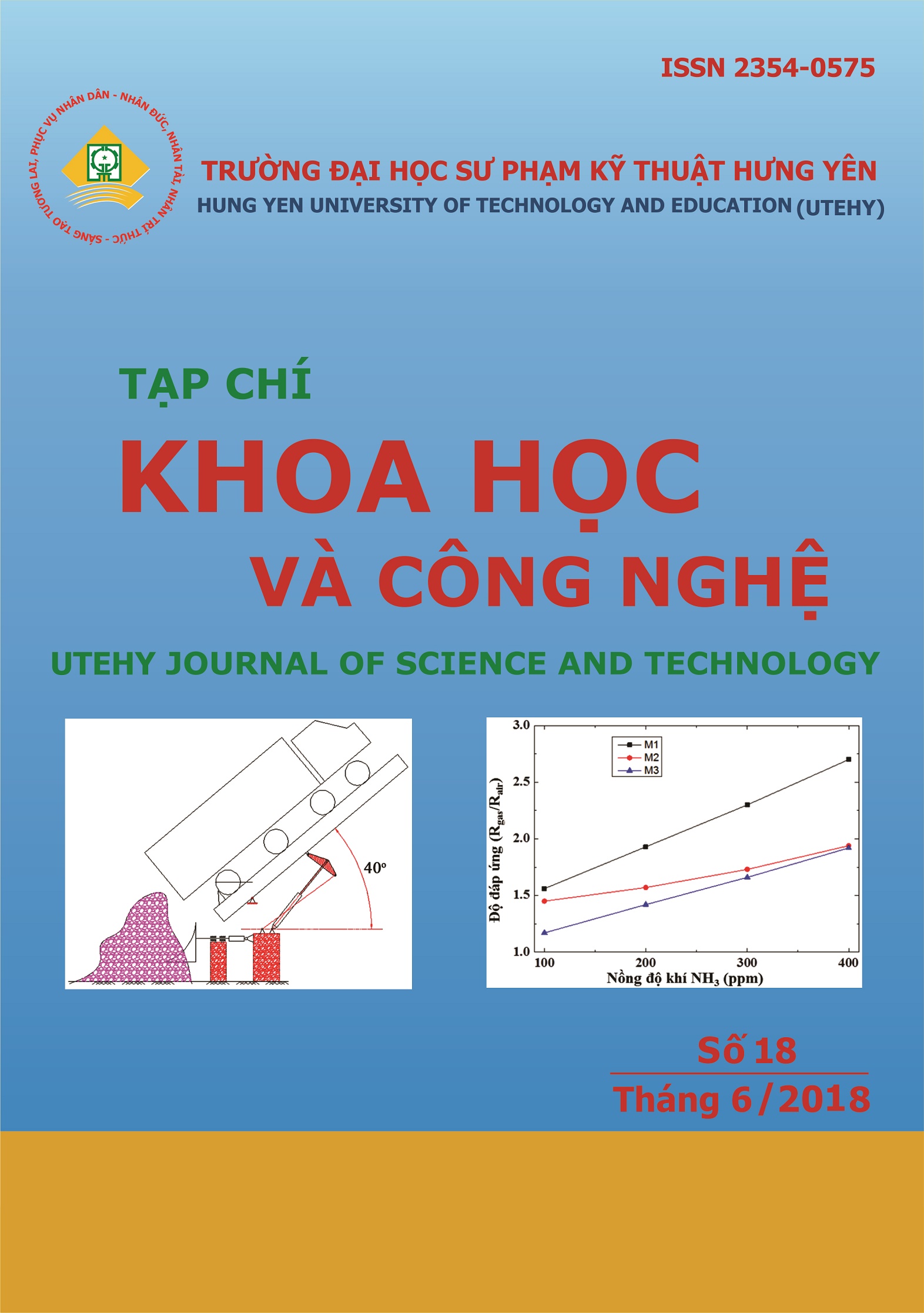 How to Cite
Nguyen Dinh Tung, & Do Thi Thanh Xuan. (2018). STUDY ON SELECTION OF STRUCTURE AND CONSTRUCTION OF HYDRAULIC CONTROL CIRCUITS FOR LIFTING AND DISCHARGING THE CASSAVA ROOTS SYSTEM WITH CAPACITY 30-60 TONS. UTEHY Journal of Science and Technology, 18, 23-29. Retrieved from http://tapchi.utehy.edu.vn/index.php/jst/article/view/105